Microsoft Flight Simulator MSFS 2020
Microsoft Flight Simulator MSFS 2020
Microsoft Flight Simulator 2020 (MSFS) is just our. Flight Simulator 2020 is the next-gen flight simulator and the already legendary successor to Microsoft FSX. From small planes to airliners, from America to Antarctica. You can fly all over the world in the most realistic aircraft that have been recreated in great detail. Fly in the most realistic and challenging weather conditions and relish the experience!
Ultra realistic flight model
With a newly developed flight model, Microsoft Flight Simulator is more realistic than ever. Forces are dynamically built up, influenced by weather conditions and other factors like flying through clouds. This makes the simulation ultra realistic.
Microsoft has developed a completely new 3D engine for Flight Simulator 2020. This engine supports 4K displays and HDR (High Dynamic Range) photographic images, making FS2020 more detailed than all its predecessors. All these details are brought to life with the help of Artificial Intelligence (AI).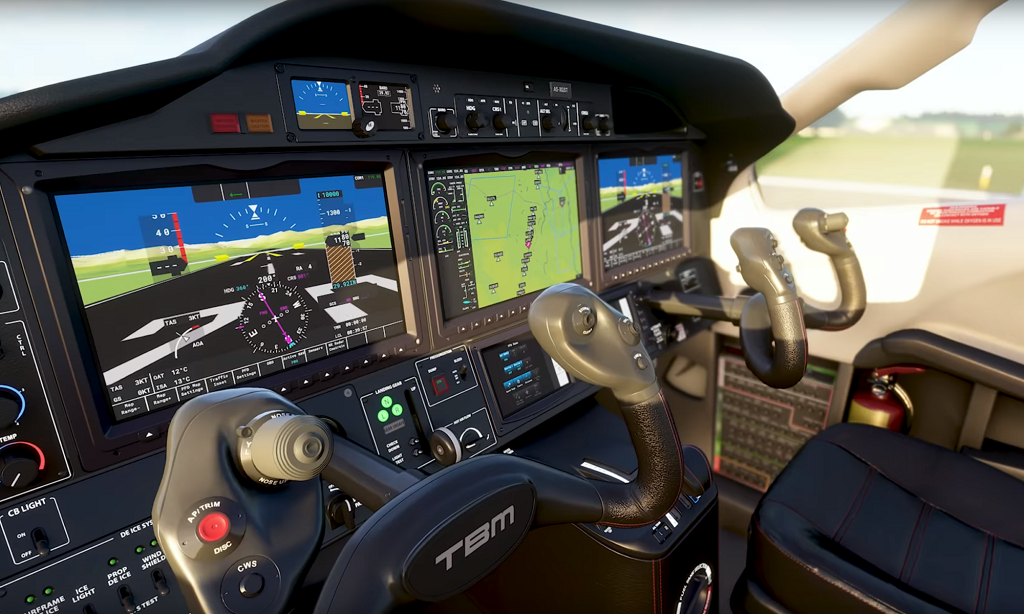 Since the closed Alpha and Beta tests, Fly Elise-ng has been monitoring the game progress and making sure that Fly Elise-ng software is ready for Flight Simulator 2020.
Our latest Immersive Display PRO v4.3.0 supports warping and blending of Microsoft Flight Simulator 2020, both for Standalone Edition and for Steam Edition.
However, there is a catch. Although this initial version of MSFS supports multiple outputs and multiple monitors, it does NOT support multiple windows (at first). So you will be able to use several monitors for a single view but you won't be able to open multiple views or use a 2nd window for instruments.
This is a huge limitation for being able to use MSFS for true geometrical outside views in a multi-projection or multi-LCD systems. Only a single view (spanned displays) can be used with the limitation of the maximal FOV that can be achieved with a single view, which is about 100 degrees. Larger FOVs will cause the so-called pinch distortion.
In order to get 100% accurate and geometrically correct images, our Immersive Calibration PRO calculates the needed view parameters (FOV and orientation) to produce perfect and undistorted views with no FOV limitation. But , in order to be able to use those views, MSFS must support the so-called multi-view or multi-window functionality.
Unfortunately, at this moment, MSFS does NOT support this, and multi-view setups are not possible.
However, we at Fly Elise-ng are ready. MFSF already supports a flexible camera system which allows accurate definition of the camera position, FOV(sS and orientation. We use this camera system model in Immersive Calibration PRO to generate the camera parameters and use them to generate the correct views.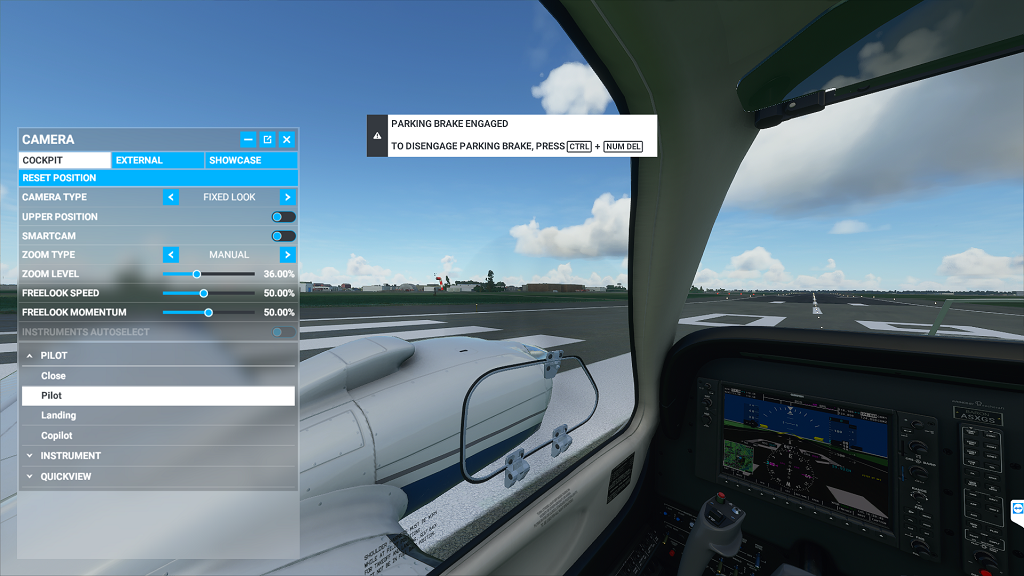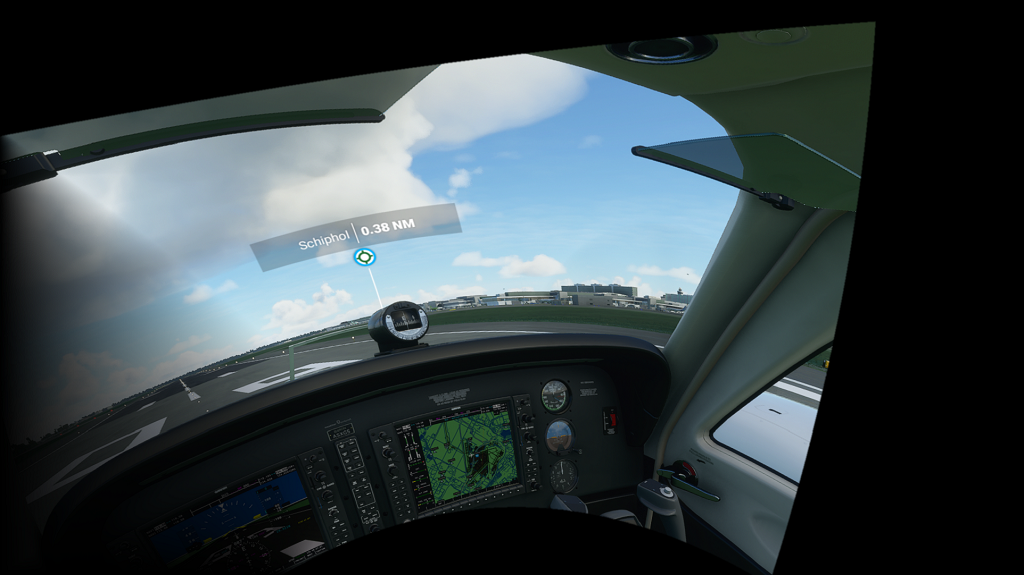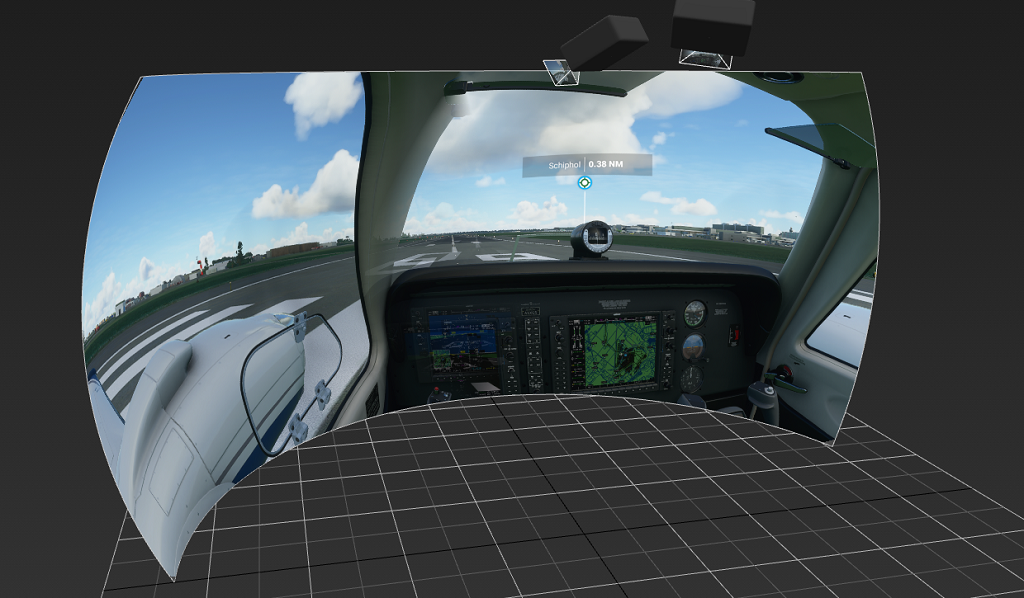 Once the MSFS update is released with support for multi-view (in a similar fashion as the View-Groups for P3D) then we will release a new updated version of Immersive Calibration PRO with export for MSFS.
Until then, only a single view warping will be possible with Immersive Display PRO and Immersive Calibration PRO.
We invite you to contact Microsoft Flight Simulator team directly and request support for multiple view. The more requests they receive, the higher the change that they will implement and release this functionality sooner.